RHS Chelsea Flower Show 2016 – Winners are grinners
Breaking the rules at the RHS Chelsea Flower Show
Easigrass made history in 2010 as the first ─ and only ─ artificial grass company to ever showcase at the Royal Horticultural Society Chelsea Flower Show. Until then, the RHS's most prestigious flower show had forbidden the inclusion of artificial plant material.
However…
Easigrass made the compelling case for the rules to be reconsidered and that year they were awarded permission to showcase their synthetic material for the first time.
With a stunning entry that impressed judges and demonstrated the innovative and progressive thinking of the synthetic grass company, Easigrass clearly showed that their high quality artificial grass need not be seen as out of place in a flower show, and instead can both complement the real plants and be admired in its own right.
How did we do it? Who did we involve?
Discussing the initial conception of the garden entry, Easigrass's show designer Tony Smith from landscape contractor Hortus Infinitus explained his decision to utilise the synthetic material due to Easigrass being "a great product [that] shows how far artificial grass has come in recent years", and one that encapsulates the versatility that this synthetic material can have.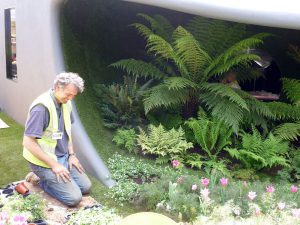 From their first garden exhibit in 2010, Easigrass has since returned to the RHS Chelsea Flower Show time and time again to win numerous awards, including the coveted Gold medal, the highest accolade in the gardening world. This year, Easigrass have returned once more to the show with a solo trade stand filled with inventive new ways to present their creative ability and brilliant grass. They have been received with a fantastic reception and most recently have been awarded the highly coveted and top-level 5 Star Tradestand Award.
From initial determination to even get their products included in the show, to year after year of brilliant success, Easigrass have won over the flower show audiences and judges with their skill and imagination, and the world is eager to see what they come up with next.
"We've waived rules so he can use fake grass as a surface material."
The RHS Chelsea Flower Show is well known for exhibiting designers who extend their creative boundaries and reveal ever more inventive and cutting-edge creations. Taking place every year in the Great Pavilion, a vast area which is large enough to park 500 London buses, the show is filled with artistic show pieces and appreciative audiences. In a gardening world which understandably favours real plants, Easigrass nonetheless viewed this event as the ideal opportunity to reveal just what can be achieved when utilising their unique and natural-looking products, and how they can be combined with real plants and flowers to create an incredible result. However, for almost the first 100 years of the Chelsea Flower Show, the strict rules dictated that only real plant material could be included. Bob Sweet, the RHS's Head of Shows Development stated that this was because, "As the RHS, we have to advocate using real plants". Yet Easigrass felt strongly about the strength of their product and came up with a creative solution; requesting the inclusion of their artificial product on the basis that it was to be used inside a grotto where real plants would not normally grow. The company won the organisers over and they were allowed to participate in the show; as Bob explained, "It has a cave which is very dark and wouldn't support plants. The designer wanted to give it a green feel, so we've waived rules so he can use fake grass as a surface material." This important decision to permit the very first display of artificial grass in the flower show was a momentous occasion for Easigrass, and it enabled Tony and the team to reveal just what Easigrass could achieve to the show attendees, judges and organisers.
Introducing "The Urban Plantaholics Kitchen Garden"
The resulting creation displayed in the 2010 show was a wonderfully inventive combination of artificial grass and creative design, known as 'The Urban Plantaholics Kitchen Garden'. It took months of planning and coordination, but the team created a spectacular and unforgettable show piece. Managing Director of Easigrass, Anthony Gallagher, stated that they wanted to "make people aware that our premium artificial grass can be used in a multitude of ways in and out of the garden", and that the RHS Chelsea Flower Show was the ideal place to do this as it is the "pinnacle of the gardening year". Successfully integrating the synthetic product into the garden, Easigrass used their premium Mayfair brand to create an incredibly lifelike and super soft feel. This unique and forward-thinking product uses dead grass infill to retain its soft texture, and features 63 colours to emphasise and enhance its realistic appearance.
"Our premium artificial grass can be used in a multitude of ways in and out of the garden"
As well as the innovative use of the carefully constructed Mayfair grass, the piece itself had an imaginative and captivating concept. As the designer described it, the garden was representative of a leisure area for an eccentric and obsessive plantaholic with a passion for ferns and orchids who needed a place to escape his stressful, high-powered job. A dense forest was created, hidden within a shadowy grotto, and awash with greenery and luscious ferns that are the character's prize plants, perfectly complementing the impenetrable walls and ceiling covered with artificial grass. A beautiful and unusual piece combining the synthetic material in the grass alongside the living plants, the show piece highlighted how, rather than the real and the man-made necessarily being at odds with one another, the two contrasting materials could act as perfect balances to one another and create a unified whole.
"Kitchen gardens are the height of fashion at the moment but this is a twist on that – it's a horticultural joke."
In continuation of this surreal atmosphere in the exhibit, a poem written by John Armstrong was played throughout the show piece's "kitchen" where the unusual businessman was said to have transformed the space into a shrine for his collection of orchids. Live impromptu performances of the poem were enacted at random intervals throughout the week. Tony himself described the piece as "an eccentric's garden, it's not meant to be for the average young couple because I get so bored of gardens designed like that." As he continued, "Kitchen gardens are the height of fashion at the moment but this is a twist on that – it's a horticultural joke." Despite its initial controversy as a product featuring artificial grass being showcased in a flower show, the piece clearly impressed the judges and it narrowly missed receiving a Gold medal by just one point. It instead won a Silver Guilt award which was a huge success as it was the very first RHS Chelsea Flower Show award to be given to a product featuring artificial grass.
Returning to the show, but this time it's Gold…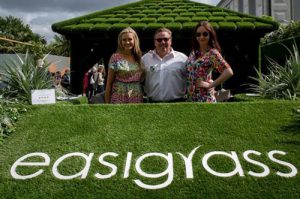 After their incredibly close proximity to the gold medal in 2010, Easigrass returned to the Chelsea Flower Show just two years later in 2012 to win not only a Gold Medal, but also a Best in Show award with their entry. Yet again Easigrass created an original combination of artificial and real plants, showcasing orchids, tulips and ferns alongside the artificial grass product.
"Green with…" in 2012
Easigrass were then – and still are – not only the first but also the only artificial grass company to have been awarded a gold medal from the Royal Horticultural Society. Anthony described the win as being "a measure of how perfect our craftsmanship is and [that we were] delighted to be recognised as a quality company by independent assessors that are held in the highest regard within the horticultural world". This time utilising the Chelsea grass range, a product with a natural look and feel, Tony Smith again designed the set with creative flair and novel ideas to showcase the versatility and beauty of the artificial grass.
Entitled 'Green with…', this 2012 installation was largely different from the first show in 2010, and focused on the human emotions of desire and envy. Comprised of three Perspex cylinders that encased delicate orchids surrounded by columns covered in artificial grass, it was also clear that the show organisers were more open to the use of the artificial grass, and Tony was allowed to cover the whole structure in the luscious green material. Tony again brought together Easigrass with nature, and surrounded tulips, ferns and the encased orchids with the synthetic grass. As he explained, "The structure suggests a cage, perhaps the prison that the deeply envious individual who desires what another owns will inevitably find themselves trapped within, should they not conquer their weaknesses."
"The structure suggests a cage, perhaps the prison that the deeply envious individual who desires what another owns will inevitably find themselves trapped within…"
A striking and ethereal structure, the Chelsea brand of Easigrass used included their unique dead grass infill which provided the product with such a natural look and feel that it bowled over the judges. The newly created Fresh Gardens category required designers to think outside of the box and create something more challenging and unconventional in comparison to some of the more traditional gardens exhibited at the Chelsea Flower Show, and Easigrass's creation was an ideal entry for this. Their approach to this challenge was both innovative and beautiful, leading it to be a talking point of the show and resulting in it being recognised with the highest accolade in the gardening world, the Gold medal, as well as winning a Best in Show award.
"And the Living is Easi…": 2015 Winners
In 2015 Easigrass returned to the show once more and entered their piece into a different category, this time in partnership with John Lewis. Instead of making a garden they created a trade stand, which meant that the piece and concept had to be approached slightly differently. The name of the stand was "and the Living is Easi…", and it was designed to highlight the synergy of John Lewis's Outdoor Living range with Easigrass's products. As in previous years, Easigrass demonstrated that they were not content to just follow the norm and instead wanted to continue challenging themselves and experimenting with the versatility that their artificial grass products enable. Creating a trade stand meant that there was even more scope to use the grass creatively, which was utilised by both seasoned designer Tony, and Michael Murphy, an inventive carpenter with big ideas who had joined the Easigrass team to help design and create the stand. It was Michael's initiative to create what has been affectionately named the "Easi-Gazeebee" which was showcased at the event. This was incredibly popular and featured an extremely original and pioneering idea for the roof of the product, which was created out of brilliant artificial grass tiles. Michael is part of the newly formed Easi-Scape team which additionally offers the option of real plants and trees for Easigrass's garden customers. The 2015 product also incorporated new yarn technologies designed to keep the artificial grass cooler.
"[We are] utterly thrilled to have won a 4 star tradestand award on 'artificial' home turf"
Easigrass won the Four Star Tradestand award for their 2015 entry, a fantastic result that yet again highlighted the positive impression that Easigrass had made on the Chelsea Flower Show. Anthony reacted to the award stating that he was "utterly thrilled to have won a 4 star tradestand award on 'artificial' home turf, RHS Chelsea Flower Show, this week with industry colleague and friend, Tony Smith and supported by John Lewis." He continued to explain that the Easigrass trade stand had been designed to "[pay] homage to 'The Great British Summer' and the versatility of the Easigrass range of products, particularly Easi-Mayfair, our world class, best-selling artificial grass as well as the launch of a new landscaping operation called Easi-Scape." Anthony described the team as being "extremely excited about our new Easi-Scape business offering and [said that they would] be working with some very well-known landscaping names to assist [them] with development, as well as forging JVs within hard landscaping as well." John Lewis were also delighted with the award and recognition of Easigrass's success, with Nicola Gidlow, a buyer for Outdoor Living stating that, "After so many years of celebrating the RHS Chelsea Flower Show in our Peter Jones store, we are delighted for Easigrass with this award and proud to have been part of such a wonderful Show stand. Here's to a great British Summer of Outdoor Living."
And now with life-size grass animals…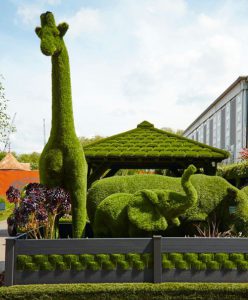 This year, in 2016 Easigrass have returned to the Chelsea Flower Show with another creative and inspiring entry. Submitting their piece as a solo trade stand this year they relished the liberation that past success at the flower show had provided them with, and celebrated this by introducing incredible life-size grass animals to dominate the show. Giraffes and bears tower over amazed audiences, and the complex design of elephants and rhinos effortlessly show off the incredible skill that was required to create them, impressing judges and show attendees alike. Requiring precision and technical expertise these animals are fantastic examples of what Easigrass can achieve with their products, and how they can manipulate the artificial grass to do something that it would not normally be able to, such as lining tight corners and tiny areas. The synthetic animals have resulted in constant feedback from the packed stand stating that everyone has loved the look and feel of these impressive creations, and they have been unsurprising favourites with many of the younger spectators. The creatures and their surrounding exhibit have also impressed the judges, who have yet again bestowed upon the company the highest award possible in their category, which this time is the Five Star Tradestand Award.
From controversy to gold
Although many people attending the RHS shows were initially sceptical back in 2010, Easigrass has consistently continued to shine and impress them, and as a result the artificial grass company has become much more socially accepted at the Chelsea Flower Show. Additionally, after cultivating positive relationships with the organisers of the show, they have now formed great relationships with many of the leading garden designers who now have the opportunity to utilise what Easigrass can offer if they need to design a place where real grass cannot grow. Easigrass have been especially sensitive about ensuring that flora and fauna are not harmed, and always encouraging their customers to consider the same. In recent years the company has established itself as an active member of many leading garden societies including the RHS, SGD and the HTA among others. Their Easi-scape service also offers the option to integrate fauna within the surrounding bedding areas with a range of plant options. Additionally, they have been assisting "The Wildlife Corridor" and strive to be socially responsible in everything they do. These decisions alongside the spectacular exhibits that they have brought to the RHS show again and again have resulted in enormous respect for the artificial grass company within the gardening world, and in 2016 they became one of the busiest stands at the Chelsea Flower Show. Easigrass now have a vast global customer base, and design all their products in house utilising their garden experts who have a wealth of knowledge about both the installation of artificial grass, and the environmental considerations that necessarily go alongside this. So despite the original controversy surrounding Easigrass in 2010 when people were somewhat apprehensive about what artificial grass could bring to a flower and garden show, Easigrass has consistently impressed and captivated audiences and judges, and have been aptly rewarded with numerous medals and awards including the hugely prestigious Gold Medal in 2012, and more recently the enviable Five Star Tradestand Award.