5 Ways Artificial Grass Keeps Your Kids Safe
There's nothing better than having your little ones burn off some extra energy by playing in the garden. Unfortunately, children love to roughhouse, and accidents do happen. As more homeowners and families lean into the advantages of installing artificial grass, a big question that often pops up is whether installing an artificial lawn is safe for kids.
While we could simply answer this question with a resounding YES, we thought we would provide you with a few reasons why synthetic turf is perfect for the kids and a great addition to your home:
No More Scrapes
Hearing the pained cries of your little one can send panic through any parent. While accidents can happen on natural grass and artificial turf, the latter is developed with proven technology that minimises impact and provides your kids with a safe surface to play on. The Easigrass™ range of artificial grass products helps cushion any blows when taking a tumble or when you're sharing those daring dance moves during your kid's birthday party. Our durable shockpad system can be installed around swings, slides, climbing frames, paddling pools, trampolines, and so much more. Enjoy the benefits of our Easi-shockpad range, which offers a softer, safer landing for play, reducing the risk of injury and providing you with peace of mind!
It's Hypoallergenic
According to studies, nearly 40% of children in the United Kingdom suffer from seasonal allergies. When the pollen count rises, stuffiness, sneezing, fatigue and redness are commonplace among children. Unfortunately, forcing your kids to remain indoors to avoid these symptoms is not always an option. Natural grass will naturally produce pollen, and while installing artificial grass won't eliminate your child's allergic symptoms, it can significantly reduce the reaction they may experience when enjoying the outdoors. They'll also have a cleaner surface to play on, as you can clean your synthetic turf of any dirt and pollen with a quick rinse of a hosepipe.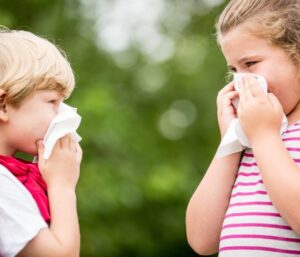 No Mud, No Mess
All parents understand the frustration of having to clean little muddy footprints traipsed in after an afternoon playing outside. Wet weather and years of use can cause natural grass to lose its form and luscious appearance, forming unsightly brown and mud patches that stain clothes and have you mopping up after your kids. When you install an artificial lawn, you can finally say goodbye to muddy clothes and soaked socks, as Easigrass™ products provide excellent drainage, which eliminates muddy puddles.
Goodbye Pests
Natural grass is a haven for pests such as small rodents, fleas and other harmful insects. These pesky critters can be dangerous for little ones running around and enjoying the garden as they can bite, scratch and carry disease. Installing artificial grass reduces the danger of having these unwanted guests create a home in your garden as it automatically eliminates their natural food source – natural grass. The durable backing design and material of Easigrass™ also ensure no burrowing pests can dig through your turf and destroy your green, vibrant lawn.
No Harmful Chemicals
In order to keep a natural lawn green and weed-free, it requires much more than just water and mowing, but pesticides and herbicides too. Every parent knows how much little children love to put things in their mouths. Unfortunately, this can spell disaster if they decide to get their hands on an object that has traces of these harmful chemicals. Thankfully, artificial grass does not require pesticides or herbicides to remain green and vibrant all year round, so you can rest assured that your little one isn't ingesting anything they shouldn't.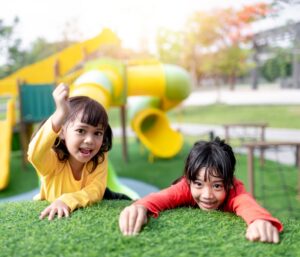 A Safe Way To Have Fun
As parents, you want to protect your child from the seemingly endless dangers of the world. While installing Easigrass™ may not eliminate every danger the world throws at them, parents can have peace of mind knowing their children are having fun while playing on a safe and clean surface.
Allow your kids to be kids and speak to us today about creating a kid-friendly garden for your home!
Book a FREE Survey
FREE Samples