ARTIFICIAL GRASS OFFERS COMPLETE SENSORY GARDEN EXPERIENCE FOR THOSE WITH DEMENTIA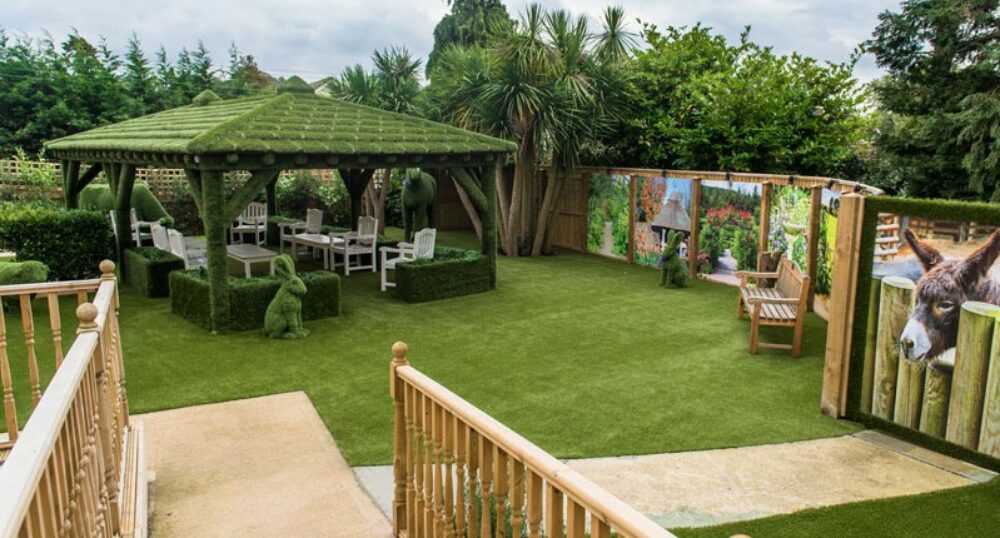 Leading artificial grass company Easigrass has supplied and installed a year-round sensory garden specially designed to help residents with dementia at Silverleigh Care Home in Devon. Creating a stimulating yet therapeutic environment for those with dementia is proven to have a positive impact on emotional and mental health, as well as promote a sense of well-being and comfort.
Complete with an artificial grass Gazebee, planters and collection of some popular Easigrass Animals. The fun and unique animal additions include a horse, sheep, cow, hares, a giraffe, and the famous Easigrass cuddly bear.
Safe, durable and extremely low maintenance, the garden can be used year-round and has created a centerpiece for the whole home as it can be viewed and enjoyed from the main dining and seating area. There is no risk of slipping or falling on hard surface, as is often the case with real grass. The lawn and surround edges of all areas are soft and cushioned – a must for elderly residents and those with mobility challenges.
Owner of three Cannon Care Homes, Robin Cannon, and his wife, Jane, wanted to incorporate something special and safe outside to complement their unique interior work to create a perfect home for residents at Silverleigh in Axminster. The Easigrass Gazebee display instantly caught their eye on a visit to the Chelsea Flower Show 2016, and so began the process of a stunning artificial grass design that residents, staff and visitors all love and enjoy.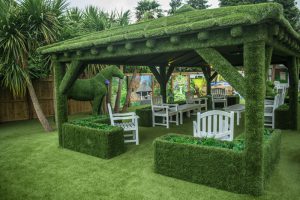 "We went to Chelsea to see what was going on and saw the Gazebee," explains Jane. "Anthony [Gallagher, managing director of Easigrass] came down to visit us within a fortnight of the show. The installation team was excellent. It took two and half weeks to complete and was finished end of August. It used to be a real hotchpotch of a garden – not used very often, as it was often muddy or too cold. Now it looks as good as it did when it was finished by Easigrass. And there's no constant maintenance other than the occasional trimming of a new evergreen hedge planted on a boundary. Residents and staff love the garden."
An artist, Jane has been instrumental in creating a series of areas around the home which are designed to stimulate those with dementia, based on triggering happy memories and eliminating the feeling of being enclosed. These include a 60s style hair dressing salon, a 50s style sweet shop, cinema room, a diner, an old-style train carriage, a small snug decorated to look like an old pub, as well as some beautiful images such as country and sea views throughout corridors.
Symptoms of dementia vary, but often include a decline in body functions, senses, social communication and physical activity. People with dementia can easily become disorientated and forget where they are going or coming from. It was important to design a garden providing orientation through visual clues, and somewhere that maintained its look and familiarity.
Vinyl images of gardens and waterfalls around the fence minimise any feeling of enclosure and evoke happy life memories. The Easigrass bear inspired a small area themed around Winnie the Pooh to stimulate pleasant memories.
The garden offers sensory experience in terms of sight and touch with the soft texture of the artificial grass covered areas. The central focus of the garden is the large Gazebee that provides excellent shelter from the sun and rain and a perfect place for outdoor activities.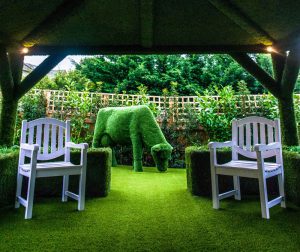 "We are right in the town centre," says Robin. "This is a garden for people who can't easily get outdoors. Residents weren't able to access garden in winter and spring. Now they can. It's another room."
The garden is a place for outdoor activity, but also somewhere for residents and visitors to sit quietly and help ease any stress and anxiety they may experience. White garden furniture compliments the large Gazebee and lawn, adding to a sense of calm and relaxation.
The garden is also lit at night for visual enjoyment when the sun goes down. Wires for the lights could easily be fitted out of harm's way below the Easigrass lawn installation.
Safety is key when dealing with vulnerable people, so the garden had to be slip-resistant, secure, have non-toxic foliage and shelter. Artificial grass provided all these solutions and more, particularly with the exclusive Easigrass Gazebee and animal collection to enhance the experience. The garden maintains its look year-round with little to no maintenance required.
"The garden fits so well into this environment," says Jane. "It enhances what we are about. When it was completed some of our residents were hugging the horses and sitting on the sheep. We've also found it's great for visitors. We held our annual garden party there complete with handmade skittle sets."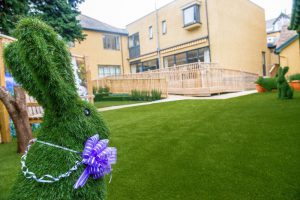 Not only has the garden proved a hit with residents and staff, Robin and Jane believe it is an excellent promotion for those looking for a suitable home for loved ones. They have found that younger residents with dementia find it easier to adjust to care home life in such a stimulating environment, away from the more traditional approach to elderly care.
In addition to the main garden, Easigrass also transformed a small concrete area in the central part of the building that is overlooked from the main seating area. A small laundry area opens out on to the yard. The door to the laundry has been painted to look like a giraffe stable. An Easigrass giraffe stands proudly in its enclosure, complete with a synthetic lawn.
Fake grass is used in a variety of applications, thanks to its unique versatility. It can be installed in shady areas, balconies, roof terraces and courtyards, lifting previously dull and unused space. The Easigrass team specialises in bespoke designs, and those used for specific purposes such as Silverleigh. From safe and durable child play areas to residential care homes, Easigrass works with only award-winning quality products to create the perfect space.
Easigrass managing director Anthony Gallagher said: "It was an absolute pleasure to work closely with the care home owners to create a tailored bespoke solution for their outside space using our specialist artificial grass for wheelchair use, as well as our new grass structures and animals as part of the overall scheme. The reaction from all the residents has been quite overwhelming and we look forward to working with other operators within this sector to improve their spaces."
Book a FREE Survey
FREE Samples