Easi-Animals Pride Of Place In Children's Charity Garden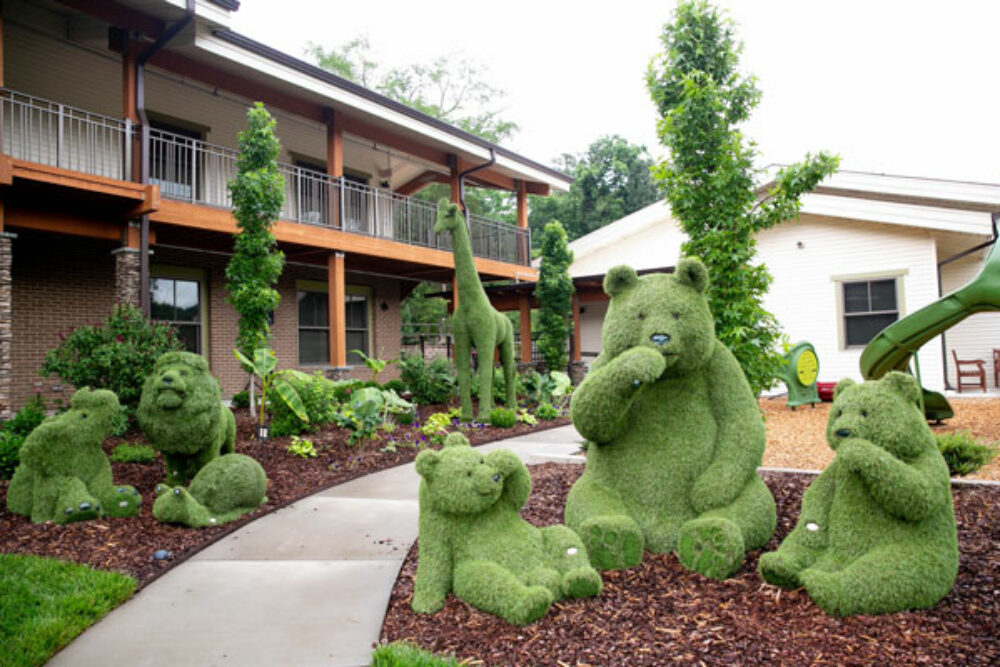 Easigrass flew a collection of Easi-Animal grass covered sculptures to the United States for a new garden at the children's charity Ronald McDonald House, near University of North Carolina Medical Center. The Ronald McDonald House of Chapel Hill provides 'home-away-from-home' accommodation for families of children being treated at the hospital.
Since the house opened in 1988, each year more than 2,100 families with seriously ill or injured children have been provided with the basic necessities and comforts of home so they can focus on caring for a sick child. There are 29 hotel-style guest rooms; play rooms; family rooms; library; a fully stocked kitchen and pantry, with home cooked meals provided year-round by volunteer groups; as well as a herb and healing garden; children's playground; butterfly garden; and now an Easi-Animal-filled grass menagerie garden.
The recently created grass menagerie courtyard garden features a variety of popular Easi-Animals, including the giraffe, lion, bears, baby elephant and snail. The artificial grass animal garden was officially unveiled at a charity dedication ceremony attended by more than 100 guests on 30 May.
"We are so excited to see the joy our grass menagerie brings to the families who call the house home"
said a spokesperson for Ronald McDonald House of Chapel Hill who dedicated the opening ceremony to long-time supporters of the charity, Bob and Maggie Stout
Exclusive to Easigrass, all Easi-Animals are skilfully designed and handcrafted using Royal Horticultural Society (RHS) medal-winning artificial grass in Surrey, England. From life-sized horses, lions, tigers, camels and gorillas, to cuddly bears, unicorns and frogs, Easi-Animals are available for purchase or rent worldwide.
The Ronald McDonald House Charity contacted Easigrass in the UK to purchase and arrange transportation of the Easi-Animals. Contact Easigrass by telephone on 0330 400 4498, email at boutique@easigrass.com or see website www.easigrass.com.
Book a FREE Survey
FREE Samples