Easi success celebrated at annual conference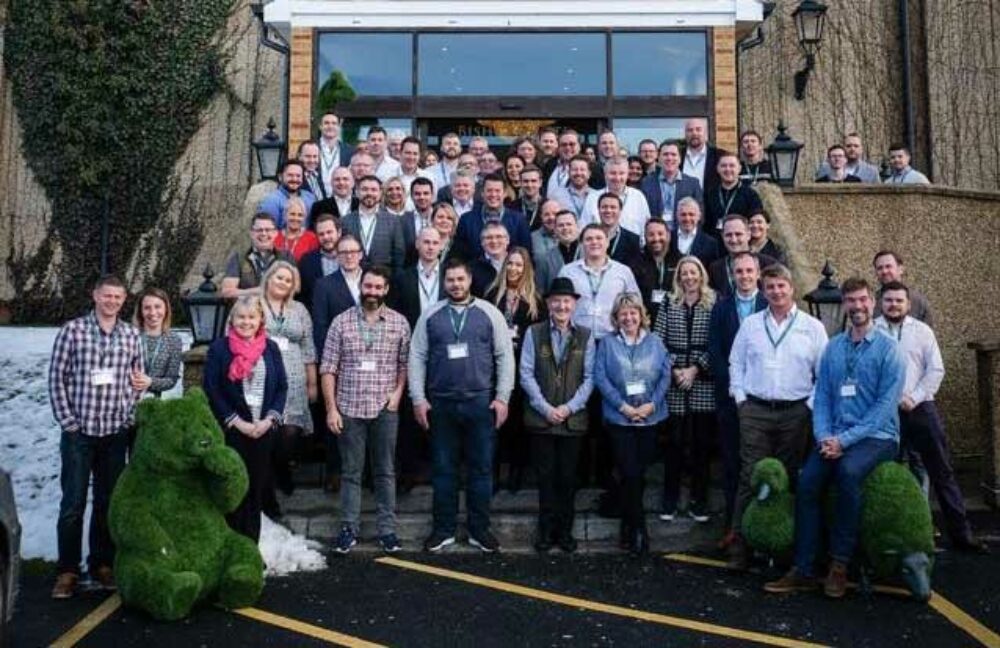 Easigrass partners from across the UK and international network gathered with industry leaders for an inspiring and informative annual conference, where a range of innovative new products were unveiled and growing brand success celebrated. The overall theme of the Easigrass conference, which was held at the Ramside Hall Hotel in Durham in January, was "Be Social" with a focus on engaging with the public online in an informative and entertaining way.
"There's hasn't been a conference yet I haven't learned something from," said Easigrass managing director Anthony Gallagher, who unveiled the new contract range of grasses and encouraged all partners to fly the flag of brand quality, particularly on social media platforms. "All our partners have the full support of our headquarters in London. Easigrass has a lot to offer. We want the whole network to engage locally. By sharing our installations and products on social media platforms we show everyone that we are capable of turning out fantastic work at the highest professional level."
Guest Speakers
Leading social media and business psychology expert, Sam Flynn, offered first-rate insight and advice on how to effectively connect with customers. Sam said this engagement offered a window on the Easigrass family and personality, and ultimately the quality work and service the brand delivers at every level.
Other leading guest speakers unveiled the latest innovative products in the outdoor market, which will be available in the UK through Easigrass in 2018. This included Zeofill CEO Brian Peirce, who impressed delegates with his environmentally sustainable infill product which has taken the US market by storm. An organic turf infill, this unique substance works to eliminate pet urine odour and prevent fake grass lawn damage. Brian even added Zeofill to his drinking water during his talk to personally prove its non-toxic properties.
Adam Rutecki of Twilight Trees impressed delegates with his collection of ornamental artificial trees with built in lighting; John Moorhouse of Hahn Plastics presented a number of recycled plastic design solutions available to landscapers; and Rene Assies of Suslight showcased the latest in innovative LED outdoor lighting products.
Wayne Grills of the British Association of Landscape Industries (BALI) took to the stage to highlight the importance of high standards in the industry, and how its kite mark awarded to members such as Easigrass signified quality. Representatives from high performing Easigrass networks in 2018, including Herve Truniger from South Africa, Ben Bloomfield from the United Arab Emirates and Phil Hicks from Yorkshire, offered their advice and business aims for the year ahead.
Rene Van Hinthum entertained guests with his unique humour and impressive sales and growth reports in Europe. Will Allan also reported on extremely healthy growth in the international sector and looked at the countries where Easigrass is set to establish networks.
A Healthy Growth In 2017
Easigrass reported a healthy growth in sales in 2017 and extremely positive projections for 2018, particularly with the expansion in the UK network and deals in the pipeline within the growing international partner network.
Easigrass sales director Charles Down told delegates: "There is nothing our competitors are putting out there that should scare us. Yes, there are more suppliers on the market, however, it's like the double-glazing industry was 20 years ago when cowboys drove product price down and made a hash of installations. Easigrass stands out and we sell on quality of brand, product, service, credibility and industry accreditations."
"Every year our Easigrass conference gets bigger and better"
Taking to Twitter to share his thoughts during the conference, Anthony tweeted: "Every year our Easigrass conference gets bigger and better and this year was no exception. Our growing team of partners from all over the world joined us to celebrate the launch of new products and to toast the exciting year ahead. We look forward to sharing these products with you."
The day concluded with an elegant gala dinner at Ramside Hall, where Anthony also presented Easigrass awards and prizes for outstanding performance by national and international designers and partners.
Book a FREE Survey
FREE Samples