Get Your Garden Summer Ready With Easigrass™
It's time to trade your thick knitwear for your favourite summer T-shirt as sunshine and warmer weather heralds our favourite season – summer. With bees buzzing and flowers blooming, there are lots to do in the garden, making those lazy summer days not-so-lazy. But at Easigrass we have you covered, with a full Maintenance service and tips to get your garden summer ready.
The Ultimate Tip To Getting Your Garden Summer Ready
Installing an artificial lawn is the ultimate tool for anyone looking to enjoy a flawless garden all year round. Easigrass™ fake grass products are designed to withstand the best and worst of the seasons, offering a low-maintenance option. However, it does require some maintenance (preferably at the start of the spring/summer season) to ensure it remains in tip-top shape. Taking a soft bristle brush or using your hose pipe to wipe down any stains is all you need, but take things up a notch with a maintenance service plan that suits your artificial grass needs.
Don't Lift a Finger This Summer
Summertime is all about kicking up your feet and enjoying the tranquillity of your garden, so there's no time to lift a finger this summer. You'll have all the time to relax when you take advantage of our convenient maintenance service. An annual visit from the experienced Easigrass™ team will ensure your lawn is perfectly green and clean no matter which season we're in.
Here are a few additional tips to help get your artificial grass ready for summer thanks to the Easi-maintenance package:
Say Goodbye to Debris
Debris, such as fallen leaves, twigs and weeds on your artificial lawn, is collected to ensure your garden is ready for summertime entertainment and relaxation.
Enjoy a Detailed Inspection
You'll have the pleasure of enjoying an artificial lawn for years to come, but you'll need to ensure it's well taken care of. We carry out a full detailed inspection to check the integrity of your artificial lawn, which we do by inspecting the edging detail and joins.
A Deep Clean
While you won't need any elbow grease to clean your artificial grass, sometimes it requires a good clean, especially when you have pets that are a little too comfortable with a particular spot. Our experts utilise specialised sanitiser and pet de-odoursing products to sanitise and clean your lawn. Your garden will smell as fresh as the daisies you planted in no time!
Get Your Grass Fluffy
One of the drawbacks to having a natural lawn is that grass blades are incredibly fragile. Too much foot traffic or not enough water can see it turn brown and wilt. You'll never have to worry about your artificial grass dying or looking less than summer-worthy as we bring your grass back to life with our motorised power brush. This re-fluffs the fibres and de-compacts the surface for a fluffier, more vibrant-looking lawn.
Add a Pop of Colour
Nothing screams summer quite like viewing a kaleidoscope of colour while relaxing in your garden. There's no better time to watch your flowers bloom than in summer, and there is a range of flowers available to help you add a pop of colour to your summer paradise. Dahlias, daffodils, pansies and primrose are just a few plants to add to your garden and which bloom during the summer months.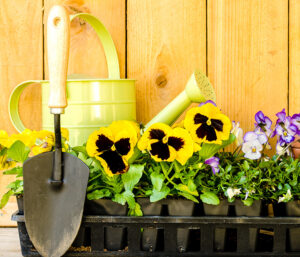 Be a Little Shady
Soaking up the sun during the summertime can be heaven for us, but not so much for your plants and flowers. Make sure your flowers don't meet their untimely demise during the heart of the summer season by creating a few shaded spots that will provide them with some respite from the midday heat. A great way to do this is by adding a rectangular awning, bamboo dividers or planting a shady tree.
Transforming your garden into a summer paradise can be easy with the right tips and tools in your arsenal. Chat with us and find out how we can help you create a vibrant outdoor space with artificial grass that suits your requirements.
Book a FREE Survey
FREE Samples