Is Artificial Grass Safe for Dogs and Children?
Making the move from a natural lawn to artificial grass is a big step, and those with pets and children are naturally going to have concerns as to whether it's going to be safe for them. This month, we're going to be answering your questions and hopefully reassuring you about the total safety of our products for your dogs and toddlers.
Is artificial grass safe for dogs?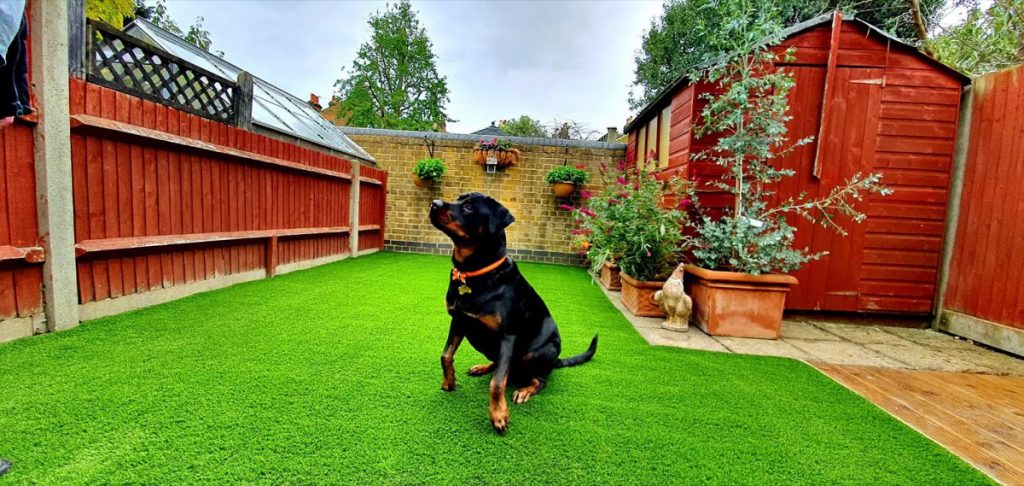 Is artificial grass safe for my dog to play on?
Artificial grass is just as soft as a natural lawn, so you can do all the usual things you'd do with your dog and they'll come to no harm. Best of all – for you, anyway! – is that with no mud, they won't get nearly as messy as they would with real grass, no matter what the weather.
What if my dog eats or licks it? Is it poisonous?
Our artificial grass is made of the same plastic as many things you'll find around your home, and no harmful effects have ever been found to have occurred as a result of eating or licking it. In fact, it's likely to be even safer than many natural lawns, because there won't be any of the weedkillers or fertilisers you'll often find in real grass.
Won't it get messy when they wee and poo on it?
Our pet-friendly turf is easy to clean after your dog does his business, and a quick hose down will clear any residue away. Meanwhile, the fibres have been specially designed to prevent the build-up of moisture, so there won't be any lingering smells either.
Will my dog damage my artificial grass?
Your dog will do a lot less damage to an artificial lawn than they would to a real one! Our turf is tough enough to withstand everything even the liveliest dog can throw at it.
What about fleas, ticks and other pests?
It's almost totally impossible to completely eradicate the presence of such pests, but you're far less likely to find them lurking in artificial grass than the real stuff. Keep your lawn clear of leaves and other debris and there shouldn't be anywhere for them to breed.
Is artificial grass safe for toddlers?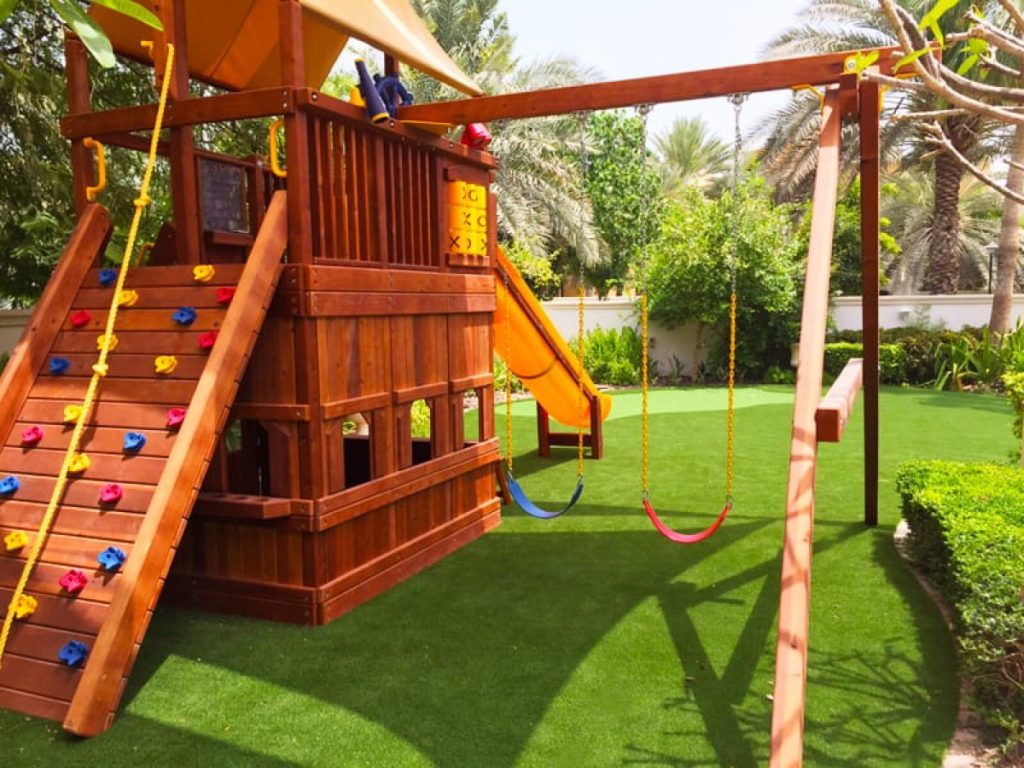 Kids and dogs do many of the same things, so where there's a concern about whether it's safe for dogs, you'll find the same applies to children. However, it's understandable that you are going to have extra concerns, so let us do our best to put them to rest.
Toddlers are a lot less resilient than dogs! Will toddlers also be safe playing on artificial grass?
As mentioned, our artificial grass is just as soft as the real thing, so we're totally confident that there's no more danger of your toddler getting hurt on it than there is on a natural lawn.
Toddlers are worse than dogs for eating what they shouldn't – how safe will my toddler be on that front?
Artificial grass is far safer for toddlers than a real lawn! There are far fewer bugs and creepy-crawlies for them to get mixed up in (so they should also feel safer as well). And as we've already explained, it's far easier to wash away any dog mess than it would be on real grass, so you can also rest completely easy on that front too.
Does artificial grass get hot in the sun? Can my child get burned walking on it?
As we've just had the hottest day on record in the UK, this is a natural concern. While artificial grass will be a bit hotter than natural grass, that can be fixed with a quick hose down with cold water – and it's still going to be a lot cooler to walk on than just about every other surface outside!
At Easigrass, we're the UK's leading supplier and installer of high-quality artificial grass. If you're asking yourself "is artificial grass safe?", we can reassure you that we do everything we can to ensure the safety of all users, no matter if they are two-legged or four-legged. 
Contact us now to find out more about our award-winning products.
Book a FREE Survey
FREE Samples