The Golfer's Guide to Artificial Grass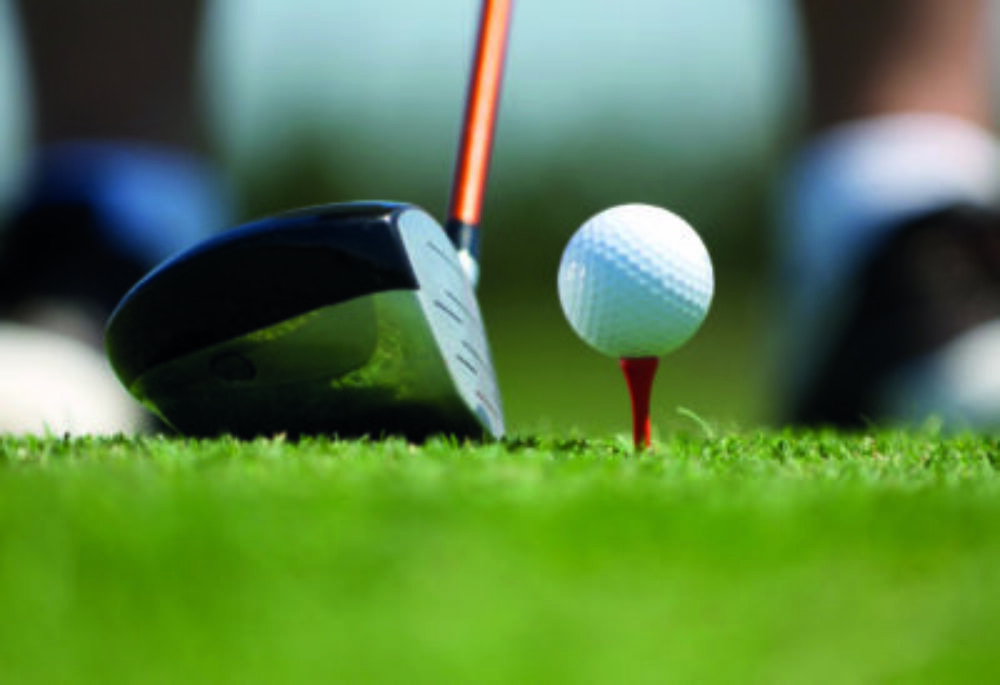 Do you dream of perfecting your swing from home without the hassle of travelling to and from the golf course? Perhaps you think that a home putting green is a luxury out of your reach, but it's actually more affordable, maintainable and easy-to-achieve than you may realise.
In this handy golfer's guide to artificial grass, we'll take a look at the benefits of a home putting green, the different types of grass types available, and how to go about installing and maintaining a home green for future enjoyment.
What are the benefits?
Whether you're practising your putting before a spot of breakfast, or taking a quick break from work with some chipping exercises, a putting green at home gives you the flexibility, accessibility and convenience of reaching the top of your game from the comfort of home. And thanks to artificial grass, you can enjoy all the benefits of home putting greens without the time-consuming upkeep. 
So, what are the key advantages of an artificial grass putting green for your garden? 
Looks and feels like the real thing:

Colour, texture, pile height – every aspect of Easigrass' artificial grass has been crafted to look, feel and perform like the real thing.

No mud, mess or mowing: The beauty of artificial grass is that its exquisite quality can be enjoyed with minimal maintenance. That means no mud, no mess and no mowing, so you can enjoy a pristine putting green with very little effort. There are, however, a few additional things you can do to keep your artificial grass looking its best long into the future, which will be covered later.
Convenience:

A home putting green grants you the freedom to practice your swing whenever you want. Getting in the car and travelling to and from the golf course can be time-consuming, and could mean you don't get as much practise in as you'd like. That's why bringing a dedicated putting green to your own property is the convenient choice, giving you more time to hone your skills without having to uproot your day.

Tailored to you:

Here at Easigrass, we create bespoke home putting greens to suit any size or shape of garden, always making sure to cater to the practical needs and preferences of every client. This way, you can enjoy a putting green that suits your skill level, size of garden and budget.

Family fun:

Summertime is family time. A home putting green can be the perfect sunny weather activity that the family can enjoy together. Simply set up a BBQ nearby and you've got the perfect summer afternoon. 
4 types of artificial grass for golfers
Unsure which type of artificial grass is best for your home putting green? We'll take you through a few key players from our easigolf range so you can make the best choice.  
This grass range is crafted from triple stabilised polyamide yarn – in simple terms, this means it is an extremely rigid and durable product with ultra-high density. Its generous 30mm pile height means that a player can take on any type of shot using any type of club, meaning it offers superb flexibility of play.
30mm pile height

100% nylon extra stabilised 

Ideal for any club, any shot 

Premium tee product
Years of research and improvement have been poured into developing the Tour Putt Ultimate Grass Range, a hybrid surface that's suitable for both outside and inside applications. It's nylon yarn allows for outstanding ball control and optimum ball speed. Its 25mm pile height also grants flexibility of play for putting and chipping. 
100% nylon micro cured 

25mm pile height

Excellent ball speed and control

Hybrid surface perfect for indoors and outside 
With almost no pile direction, the NylonPRO range offers unparalleled ball rolling, making it a professional-standard grass range. Outstanding performance is matched with a totally natural appearance, thanks to its bi-coloured 100% nylon micro cured yarn that has been specially designed for this pro product.
Professional putting surface

Non-directional speed

100% nylon micro cured

12mm pile height 
Created to simulate the look and performance of a professional putting green, the Easi-Wentworth range has a texturised finish to capture the rolling patterns and ball speed of these pro surfaces. Despite that, it's also ideal for players of all skill levels – making it a perfect putting surface for family bonding time. 
Perfect for all skill levels 

Built to mimic a professional putting green

Textured surface

15mm pile height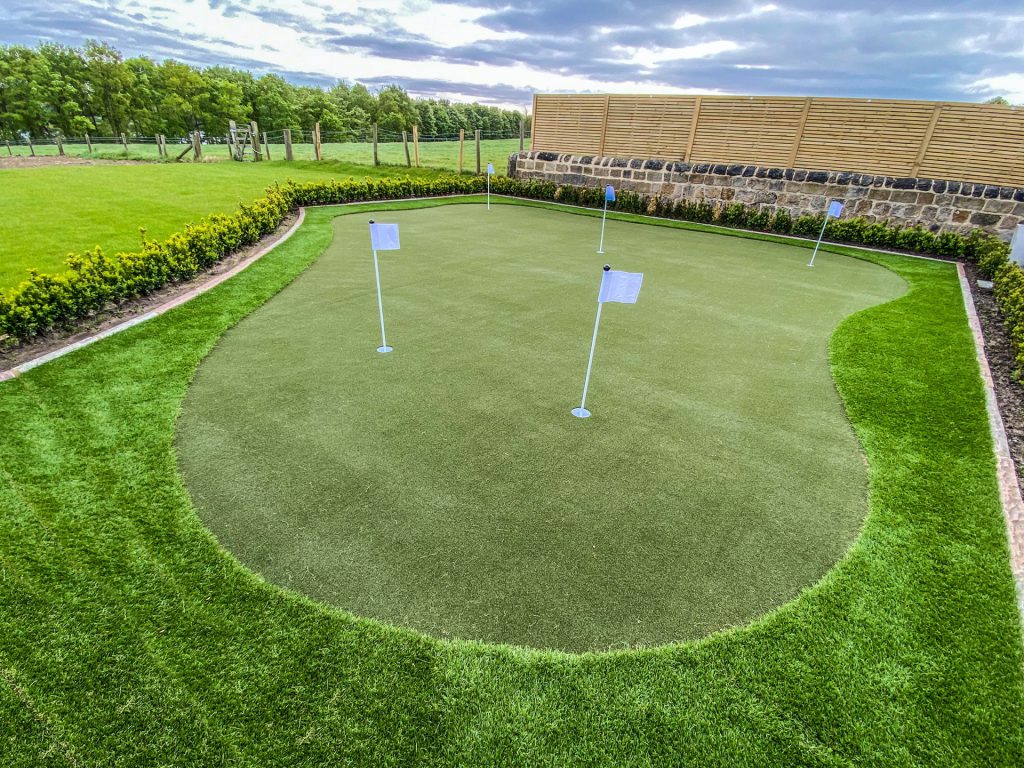 Want to learn more about these products? Our specialists will be happy to talk in greater detail about any of the ranges. 
How to maintain your golf grass
A big pull of artificial grass is that its durability and incorporated technology means it requires little upkeep – giving you more time to focus on perfecting your swing. 
However, a little goes a long way, and it's still wise to get a regular maintenance routine in place to keep the grass looking good and performing perfectly, all year round.
You're very unlikely to find weeds on artificial golf greens, due to their innovative design, and any that do pop up can be easily plucked out. 

You may also wish to give the grass an occasional sweep to get rid of any fallen debris or leaves, particularly in autumn time. 

Artificial grass self-cleans in the rain, but a periodic and gentle hose down in drier spells can also keep it looking fresh and clean. 

As well as your own efforts, it's also wise to get an annual maintenance check once per year. A professional artificial grass company, such as Easigrass, can do it for you. 
Here at Easigrass, we provide dedicated artificial grass maintenance on a schedule that suits you. Because we know our products inside out, we understand how to keep them performing at their very best. We'll ensure your grass is at the top of its game – so that you can be, too. 
So, where do I start?
If you're dreaming of a home putting green, it's time to find a supplier who can turn your concept into a reality. Here at Easigrass, we design bespoke home putting greens tailored to each and every client. Our multi-award-winning products are recognised as the UK's leading ultra-realistic, high-performance artificial grass for homes across the country. 
Give us a call and talk through your concepts.

Together, we'll decide on a design – whether that's a simple single-hole green or a multi-hole complex. We can also decide on the rise and fall of the surface to make the overall design as easy or challenging as you wish.

Our team will help you choose from our range of premier artificial grass based on your skill level and golfing aspirations.

We then carry out expert installation at a time that suits you.

As mentioned above, we also offer an annual aftercare package to keep your grass performing at its best long into the future.
Easigrass is the country's number one supplier of authentic artificial grass, including putting greens that mimic the look, performance and feel of a pro surface. If you enjoyed reading through our Golfer's guide to artificial grass, find out how we can give you the green of your dreams by simply contact our team today. 
Book a FREE Survey
FREE Samples