The launch of our new Maintenance Range
We have now launched our new artificial grass cleaning products, these products help to reduce any odour that can occur and help to remove any dirt or debris that has developed onto the lawn. The perfect at home kit to keep your lawn fresher for longer, these are now available to purchase.
Hosepipe Cleaning Kit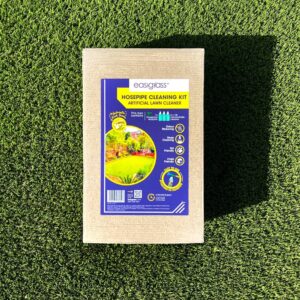 The perfect kit complete with 3 Concentrate Cleaners and a hosepipe attachment, the easi way to clean and freshen up your lawn. Use as and when required, the kit contains enough product to last up to 6 months on an average size lawn.
How to use:

Shake well before use and simply screw the hosepipe adapter into the top of the bottle, when you are ready turn the switch on the side of the hosepipe applicator and apply the premixed foam solution over your artificial lawn. Leave for a few minutes to act, we then recommend brushing your lawn with our Easigrass Maintenance Rake or a stiff brush and rinse through with water.
Concentrate Cleaner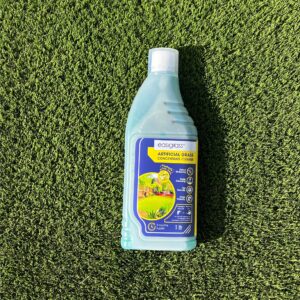 This product is a low foam concentrated cleaner specially developed for use on artificial grass, leaving your lawn clean and fresh. A deep cleaner that helps to remove dust, dirt, stains and odour.
How to use:
This product needs diluting before use, either in a watering can or attached onto a hosepipe using the hosepipe cleaning kit attachment.
Multipurpose Cleaning Spray
This product is an intensive alkaline ready to use cleaner for the daily maintenance of artificial grass, ideal for smaller gardens and pet owners. Thanks to it's formulation it acts effectively and quickly on the surface. It is formulated with special nanoparticles that give an intensive prolonged cleaning over time, even in the presence of pets, leaving a pleasant fresh fragrance.
How to use:
Shake well before use. Spray evenly on the surface of the area requiring treatment and let the product act for a few minutes, then simply use an Easigrass Maintenance Rake or a stiff brush to clean, it is recommended to rinse with water after it has settled.
Maintenance Rake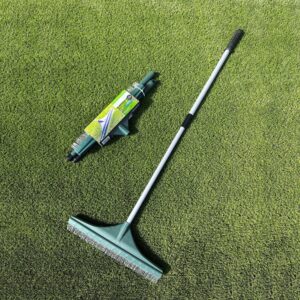 This product is perfect for removing any leaves or debris that has fallen onto the lawn, while also lifting up the fibres of the grass to get it looking brand new again. It is made from plastic fibres which are specifically designed for artificial grass (we do not recommend you to use a normal garden rake, as the metal prongs can cause damage to the grass).
How to use:
Simply take out of the package and assemble the 3 pieces together. The handle is adjustable and can be put to a height that is suitable for you.
If you would like to purchase any of these items from our Maintenance Range, please get in contact with us.
Book a FREE Survey
FREE Samples