Top 10 Golf Tips for Beginners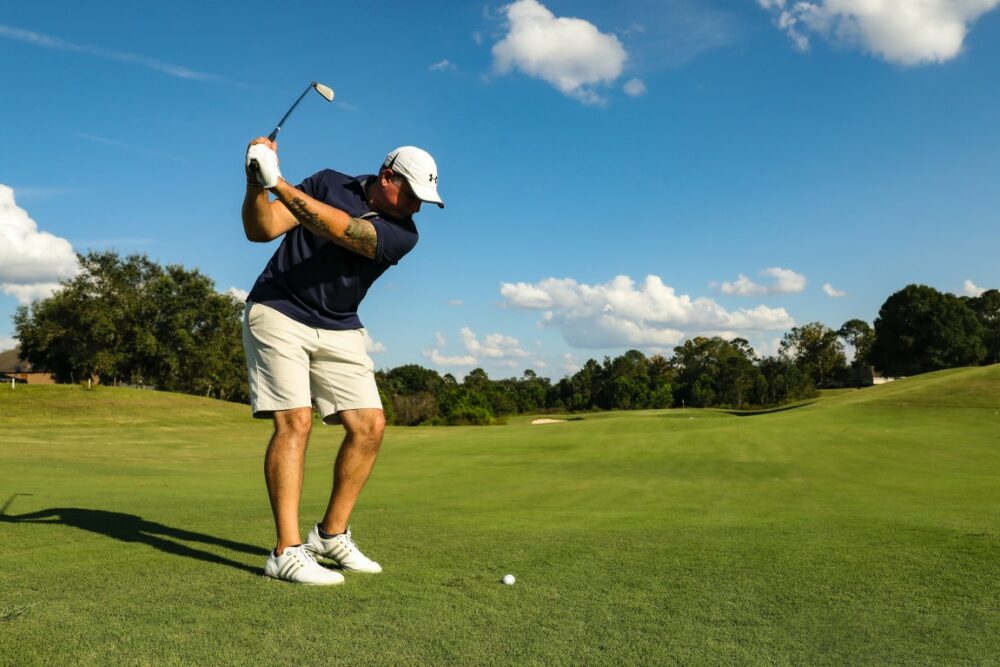 Whether it's an old pastime or a recent lockdown hobby, golf is a great way to get outside, get fit and learn a new skill. If you're new to the sport, you might have no idea where to begin – or how to get better. Luckily, anybody can hone their skills if they get started on the right foot. 
So, let's take a look at our top golf tips for beginners.
Top 10 Golf Tips for Beginners
Take Lessons
We all have to start somewhere, but you won't get far without first getting in a few lessons. By training up in the basics under the experienced guidance of a professional, you can develop your golfing skills on the right track by laying out all the necessary groundwork. 
Don't compare yourself to others
Every golfer has a different style and ability, and also a different rate of learning. Comparing yourself to others can not only be damaging to your self-esteem, but can also cause you to lose confidence rather than allowing you to focus on your own progress. Remember, that golf is supposed to be fun – and you will develop your own style and boost your own capabilities in your own time. 
Get a grip
While it might seem boring or unnecessary to perfect your grip, the way you hold a club can dramatically influence the success of your upcoming swing. During your golf lessons, get advice on the best grip for you and your aims. Thankfully, you don't have to be at the golf course to practice your grip. It can be done anywhere – even relaxing on the sofa! 
Achieve power and distance
The internet is awash with golf swing tips, so you'll know that there are many ways you can improve your swing. One such tip is to perfect your distance by placing two tees in the ground. One will be in the usual spot, while the other should be placed roughly six inches outside your first, and also at a 45 degree angle. Your aim when practicing should be to strike your primary ball while still making sure the head of your club swings over the second – this is a surefire way to deliver power. 
Posture, posture, posture
Good golfing hinges on how you set up the ball – and yourself. Pay heed to tips from your teacher about setting up your posture correctly, and remember that you shouldn't neglect this important stage even once you become more comfortable and more experienced with the game. 
Boost your speed
One of the best ways to increase speed during a swing is by maximising your width when setting up your takeaway. Practice taking your club as far back as possible during a takeaway and your body will turn along with you, helping to achieve superior speed during a swing. 
Buy cheaper balls
When you're first starting out, chances are that you'll experience a fair few lost balls. This can impact your wallet hard if you're using store-bought balls. Instead, while you're learning the ropes, it might be wiser to opt for second-hand balls. This way, your newcomer mishaps won't cause your pocket too much harm. 
Align your club
With golf, it's all about getting the correct angles, so if your golf balls are shooting off in all directions, this might be due to a misaligned club head. A handy tool is to use an alignment stick which helps you to get your club head at the right angle, and is a great piece of equipment to use when you're still building confidence. 
Nail down your putting
Golfing isn't all about the big shots. It's also about the little things. That's why getting clued up on some key putting tips can make sure you don't overlook this part of your practice. Putting makes up a huge proportion of your strikes, yet it's an area that many golfers neglect – so make sure you're not one of them. 
Practice at home
Sometimes we don't have the time or energy to get ourselves to a golf course or driving range. That's why a simple home putting green can make it easy, convenient and accessible to practice putting on your very own doorstep. 
Here at Easigrass, we supply and lay bespoke putting greens to suit any size of garden, and each one is tailored to your practice needs – this includes customisable topography and number of holes. This way, you can get a swing in at any time of the day without leaving the comfort of home. Simply get in touch with Easigrass to learn more about our Easigolf range. 
Easigrass is an award-winning provider of artificial grass, including domestic and professional putting greens. You can enjoy an industry-standard green but without the mowing and maintenance, and tailor the surface to your playing style and aspirations. Get in touch to find out more about our golfing grass range – we're proud to supply to homes across the UK. 
Book a FREE Survey
FREE Samples