Artificial Grass vs. Real Grass: Which is Better?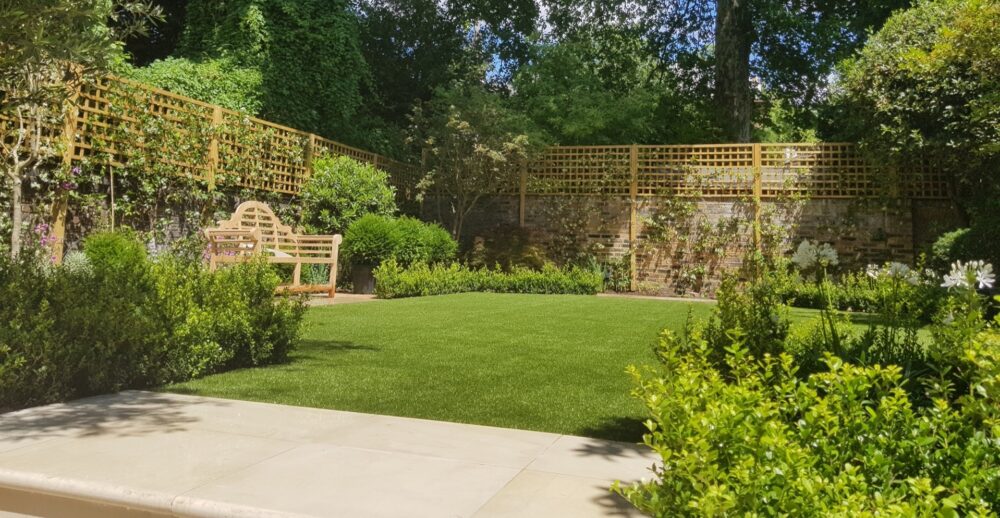 A beautiful, realistic lawn is top of the list for most homeowners. A place where family and friends can kick back, relax and enjoy the great outdoors. 
And if you want to create an outside space that pleases everyone, a key question on your mind will be 'should I get artificial grass or real grass?'. 
So let's explore the pros and cons of each choice so that you can make the best decision.
Maintenance
There's no getting around it – a real lawn needs regular upkeep to keep it free of weeds and looking healthy and pristine. This not only takes up a lot of time and energy but also money from purchasing fertilisers and other gardening products. 
Though if you enjoy gardening and taking care of your own lawn, this may not be a problem for you, but if you would rather spend more time relaxing in your garden and less time maintaining it, then artificial grass has the edge here. No mowing, fertilising or weeding is required with fake grass, and all it takes is the occasional hose down, brush and rake to keep it looking its best. 
Allergies
Hayfever has a tendency to make our summers a little more sniffly than we would like, and one big culprit is grass pollen, which can be stirred up when the lawn is cut. Pollen is not a problem with artificial grass, however, making time spent in your garden that little bit more comfortable.
Price
Artificial grass does have a higher initial installation cost than real turf. However, you need to weigh this up with the money saved on lawn mowing services and gardening products in the future. When you consider this, artificial grass may end up saving you money in the long run.
Pets
Our furry friends need a soft, safe and hygienic place to play. Real grass is certainly soft for paws and makes for a super-safe surface for them to run around on. However, our beloved pooches may get a little excited, which can result in digging and muddy paws. 
As well as real grass, artificial grass is also a soft, safe surface for pets, but it also eliminates the problem of mud and digging, making for a much cleaner pooch and a tidier garden. 
Here at Easigrass, we also offer the choice of putting odour-eating infill into our grass to keep it hygienic and smelling fresh. And it's also really easy just to pick up their business and give the grass a quick hose down to keep it clean. 
Year-Round Usability
Being formed of growing grass, natural lawns will, of course, vary in their vibrancy depending on the season. They are also more sensitive to climate, meaning that a bit of rain may result in a lawn that's a little too muddy for sport or play. With artificial grass, you can enjoy a luscious green lawn whatever the weather. 
Biodiversity
If you're somebody who values a lawn which encourages biodiversity and also contributes to the biodiversity of the surrounding environment, then a natural lawn has the advantage in this area, thanks to its real soil and real grass. However, if you did want the best of both worlds, you could always balance an artificial lawn with flower beds and hedges to boost biodiversity. 
Appearance
Most of us want our lawn to look as natural as possible, and this could deter some from opting for artificial turf. But, actually, artificial grass has improved so much in recent years that it now looks, feels and performs like the real thing, so you can enjoy the balance of a natural-looking lawn with the low-maintenance benefits it offers. 
Searching for ultra-realistic artificial grass? Here at Easigrass, we're an award-winning artificial grass supplier for the UK, known for our superb range of products that look and feel like the real thing. Our artificial lawns are also suitable for pets and children, thanks to thick piles, shock-absorbent pads and odour-eating technology. Get in touch to find out how we can transform your garden.
Book a FREE Survey
FREE Samples