Organic pet odour neutralising infill for artificial grass lawns now available exclusively in the UK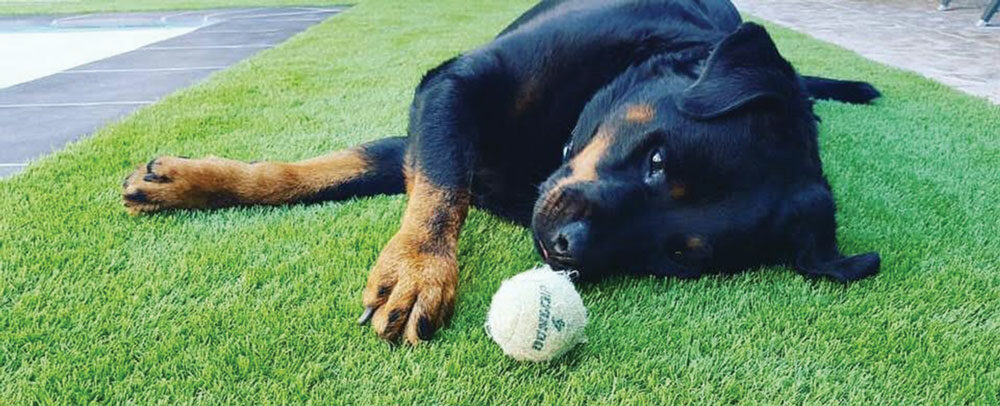 Easigrass is the only artificial grass brand in the UK to offer ZeoFill, the environmentally sustainable high performing infill product, which naturally reduces odour build-up. Developed from 100 per cent organic non-toxic volcanic ash minerals, which is also used in health food supplement and water filtration systems, ZeoFill works to neutralise pet urine odour and stabilise fibres in artificial lawns to maximum efficiency.
To maintain the natural look and cushioned feel of a natural lawn, infill is used by all professional artificial grass installers to stabilise and support the blade fibres. ZeoFill is the safest and most effective alternative to crystalline silica sand infill, and was rated the best performing odour control infill in the USA by synthetic turf experts.
Child and pet safe, ZeoFill performs in multiple ways to prevent synthetic lawn damage. ZeoFill not only absorbs ammonia found in pet urine to neutralise foul smelling odours, it also works to eliminate bacterial build-up below the turf, and closely mirrors the natural cooling properties of soil.
Easigrass recommends the use of ZeoFill on a selected range of specially designed Easi K9 Grass that's been technically developed for pets.
Unlike most synthetic grass, Easi-K9 is designed to prevent moisture retention in the backing that leads to unpleasant urine odour build-up. Easi-K9 is also perfect for paws, providing a safe, soft and durable surface at a pile height of 38mm.
Fibres surrounded by the Zeofill in the Easi-K9 grass prevents the odour build-up, that's why Easi-K9 grass anti-moisture retention technology works at optimum performance with ZeoFill.
ZeoFill natural benefits:
Works instantly on any artificial grass installation
Is a negative charge infill, which means it absorbs and significantly reduces foul smelling ammonia in pet urine
Is naturally cleansed and restored by rain water, which flushes out bacteria
Its granules cool turf fibres for longer, mirroring soil temperatures
Is 100 per cent permeable and will not clog drainage systems
Is strong and durable for heavy footfall use
Certified as an Organic Deodorizer Infill by the Organic Materials Research Institute (OMRI) in the USA, ZeoFill is the purest form of zeolite without quartz crystals.
Book a FREE Survey
FREE Samples