How to upcycle artificial lawn offcuts
One of the best things about artificial grass is its versatility. Not only does it have the ability to transform your backyard into a lush paradise, but it also offers a range of decorative and practical options too! While installing a synthetic lawn is a great alternative to natural grass, many still question its environmental impact.
Thankfully, it offers a range of environmental benefits that include reducing water usage and the use of harmful pesticides, but it doesn't stop there. Your artificial grass offcuts provide a fantastic opportunity for you to help the environment and your creativity with decorative ideas.
What are artificial grass offcuts?
We do our best to ensure precise measurements are taken, but no artificial grass sample is going to fit perfectly onto a space and you may be left with a few "leftovers." These artificial grass pieces which have been cut off during the installation process are referred to as offcuts. While you may be confused about what to do with these "wasted pieces," you may be surprised to know that there are several creative ways you can upcycle these offcuts.
Here are a few upcycling ideas that are great for your home, planet and pocket!
Artificial Grass Wall
You're friends and family are about to be green with envy when they catch a glimpse of your artificial grass wall. This is a great way to utilise your offcuts while creating an eye-catching feature wall for your garden that ticks all the environmental boxes. Our natural-look artificial grass products will ensure your garden and feature wall looks great for many years to come – no maintenance required.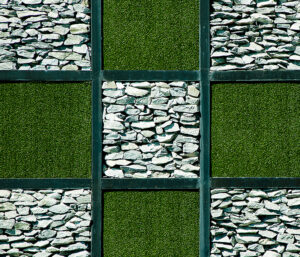 Grass Pet Pads
Your fur baby loves artificial grass just as much as you do, so why not ensure they have their own outdoor spot to roll about on? Transform your pet's dining area into a beautifully designed mat or potty train the latest addition with artificial grass pet training pads using your offcuts. Not only is your fake grass extremely durable (able to withstand any nibbling from your dog) but its perforated backing allows urine to easily flow through it, making it easy to clean.
Welcome Mat
Nothing says "welcome to my home" quite like a pop of colour and a snippet of lush, green synthetic lawn will certainly do the trick. The dense pile also provides the perfect surface for guests to wipe and scrape the mud off their shoes, ensuring your home remains spik and span. As an added cleaning bonus, you'll be happy to know that your new welcome mat can be easily cleaned with a quick spray from a hosepipe.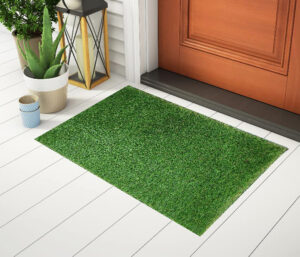 Artificial Grass Planters
Whether you're looking to add a little greenery to your home or spruce up your backyard, creating DIY artificial grass planters can be a wonderful way to utilise offcuts. You can do this by adding your offcuts to hanging baskets or wall mounts which will help you brighten up the space.
The Cut Away
Installing artificial grass is a fantastic investment if you're looking for a durable and low-maintenance alternative to regular turf. Easigrass' range of multiple award-winning fake grass products looks and feels like the real thing, offers an eco-friendly solution, and allows you to flex your creative muscles.
Ready to enjoy the versatility of artificial grass? Contact us today for your quote!
Book a FREE Survey
FREE Samples