Garden Games For The Whole Family This Summer
Summer is on our doorsteps, and the warmer weather means more time to relax with friends and family outdoors. More people are discovering the benefits of artificial grass, which offers a low-maintenance and aesthetically pleasing alternative to natural grass. While these may be the top reasons many people choose artificial grass, when the sun is out, the biggest benefit is spending time outside in a vibrant garden.
If you're eager to spread the love this summer season and invite friends and family over for fun in the sun on your lush artificial lawn, here are a few exciting lawn games to keep everyone entertained:
Bean Bag Toss
There's no way the kids will stay cooped up indoors when it's a beautiful day outside. Why not allow them to burn off some extra energy with a competitive game of bean bag toss (cornhole)? Grab an inclined board with a hole and a few bags filled with beans, and you're ready to start playing. The objective is to see who can get the most bags into the board's opening, making it a fun game for kids and adults. Make it a little challenging by increasing the distance of the starting line, and watch those competitive levels rise!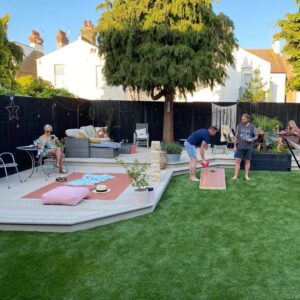 Water Balloon Fight
What would summer be without an epic water balloon fight? There's no need to worry about puddles or muddy spots forming as artificial grass offers excellent drainage with holes every 10 centimetres, so go wild. As a bonus, you can enjoy this fun activity without a care in the world, as minimal effort is required when it comes to cleaning. Simply tidy up your garden by using a gentle broom or rake to get rid of the balloon pieces.
A Game of Golf
Artificial grass was originally designed in order to provide the perfect surface for various sports, including golf. Easigrass™ are the experts in home putting green installation, providing a fantastic garden surface to suit your needs and skill. From sun up to sun down, there's certainly no better way to get into the competitive spirit and enjoy summer than with your very own putting green surface.
Giant Jenga
Bigger is sometimes better. There's nothing more exciting than playing the world's favourite board game, Jenga, outside with larger block pieces. Giant Jenga is a great way to keep everyone entertained, and artificial grass provides the perfect playing surface to help absorb the force of the "giant" falling blocks. One of the downsides to having a natural lawn is that it can be uneven, which could see your Jenga structure fall flat. Thankfully, that's not the case with your artificial lawn. Twice the block size, twice the fun!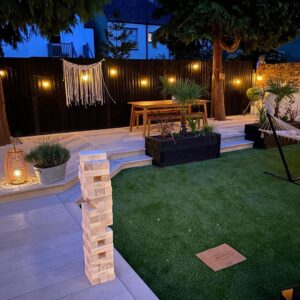 Lawn Bowling
You don't have to head to a bowling alley to enjoy the pleasure of hitting a strike or two. All you need are ten pins and a small, weighted ball (preferably one that won't break) to use as a "bowling ball." Keep score, and don't forget to make sure the entire family gets in on the fun!
Fun For The Whole Family
Summer isn't complete without a lush, vibrant lawn and a few outdoor games thrown into the mix. Artificial grass is a fantastic alternative to natural grass, ensuring you have more time to do the things you love rather than wasting time and money with mowing and unnecessary water usage.
Whether you choose to sit back and relax or have endless fun with the family this summer, make things easi with Easigrass™. Get in touch with us today to find out how to transform your garden for summer.
Book a FREE Survey
FREE Samples